24 north hotel Key West
Meetings & Events
We understand the planning that goes into an event and the effort it takes to manage a group on vacation, which is why we are here to ensure that your group stay goes as smoothly as possible.
Our flexible indoor meeting space comes prepared with Wi-Fi internet access, flat screen televisions, blackout blinds and central air-conditioning.

Conveniently located in the lobby of 24 North Hotel, with 145 guestrooms, retail, a shuttle to Old Town, and plenty of food & beverage options, your attendees will have everything they need to meet and enjoy their time in Key West. Our Group Sales Department is eager to plan your meetings and events from beginning to end.

For inquiries, please call the Sales Office at(305) 600-1425 or


Group Accomodation
Whether you're organizing a college reunion, planning a wedding, or coordinating a corporate retreat, 24 North Hotel is well-equipped to meet your group accommodation needs. Our central location makes it easy for your guests to get around Key West, and our extra-comfy bedding and on-site Starbucks ensure that your group starts the day off on the right foot.
Work & Fun...together
For the groups that will be doing more work than play, each of our spotless rooms offer desks and high-speed WiFi. However, for the groups that come to play, there's our on-site Fury Watersports concierge for tours and water-related excursions. There's also our highly-recommended bar and restaurant, Chug Cantina, perfect for whenever your group wants to unwind with a few tacos and beers by the pool.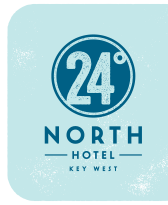 No matter the purpose of your group trip, you can count on 24 North's dedicated staff to make your group stay in Key West comfortable, warm, and stress-free.
More Rooms
[[room.short_description | limitTo: 150]][[room.short_description.length > 150 ? '...' : '']]
View Room