Posted on: June 25th , 2018
|
History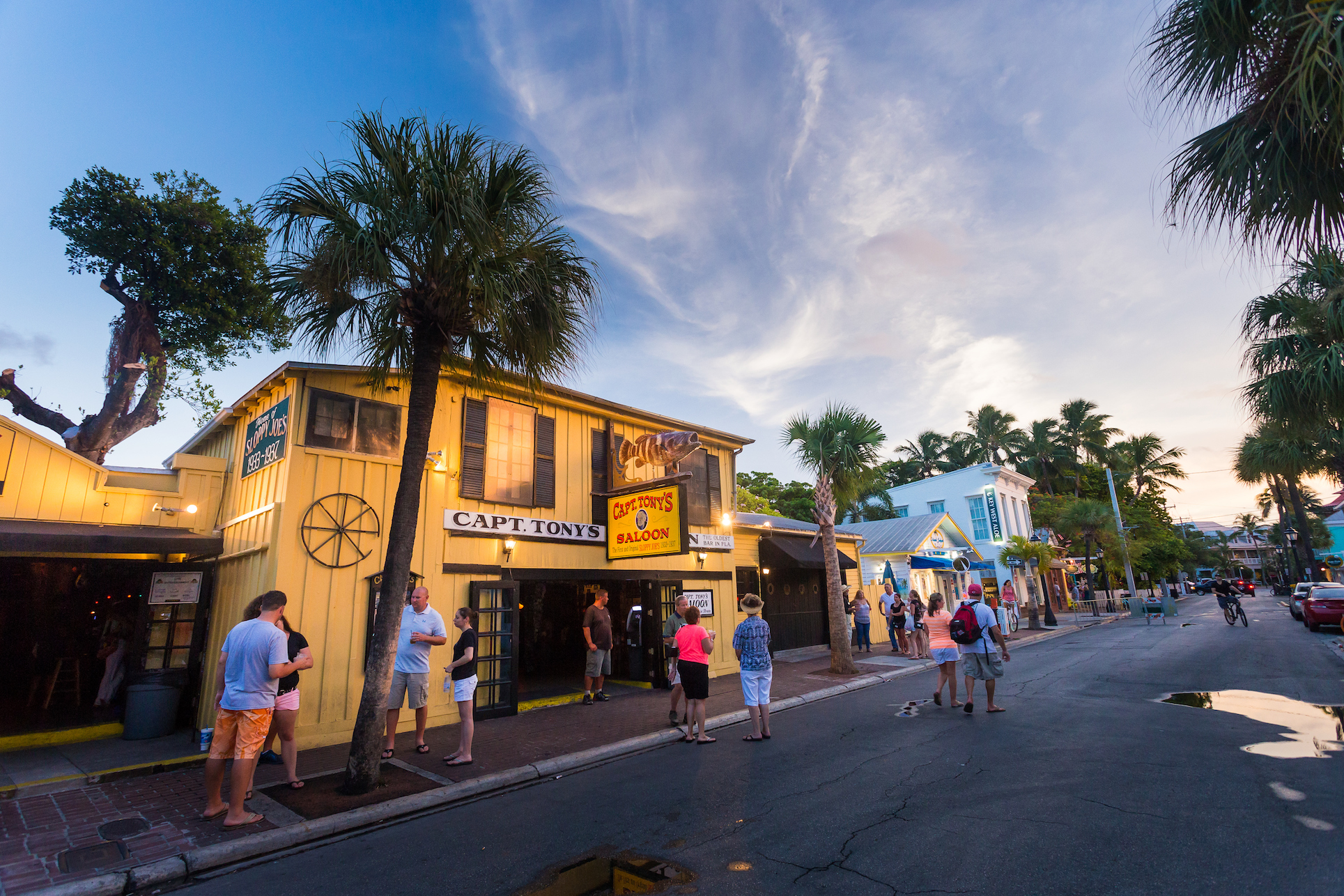 Our Key Weird series has covered the bizarre characteristics that make Key West the "Conch Republic". As 1989-1991 KW Mayor Tony Tarracino said, "Key West is an insane asylum. We're just too lazy to put up the walls or fences."
Before Tarracino became mayor, he was simply Capt. Tony, charter boat captain, fisherman, and local legend. He founded Capt. Tony's Saloon in 1958, "Florida's Oldest Bar," which is the topic of this installment of Key Weird.
The bar at 428 Greene Street is most famous for its morbid history, which may simply be tall tales exaggerated over the years by a good drink. Either way, with hundreds of bras and dollar bills hanging from the ceiling, rumors of ghosts, and a tombstone, it's undoubtedly one of the weirdest bars in Key West.
The dive bar's signature staple is the "hanging tree," a ficus tree that grows in the middle of the space. Legend says it was used as a lynching post for those guilty of piracy in olden days. It's also believed that a woman who was hanged there after killing her children continues to haunt the premises (she's known as "The Lady in Blue"). Now, these claims aren't confirmed, but the tree serves as a great draw to curious visitors and to those on the lookout for ghosts in haunted Key West.
Another odd attraction? The gravestone laid at the base of the tree. Allegedly belonging to Reba L. Sawyer, the story goes that shortly after the woman's death, her husband found letters between Reba and her lover, documenting proof of his deceased wife's infidelity. The letters referenced the bar as a frequent meeting point for the two. The angry widower apparently dug up her tombstone from the cemetery and left it at the bar, saying that it was only appropriate she rest there.
If you aren't interested in bar tales, the history of the bar is certainly interesting. Built as an ice house in the 1850s, the space was believed to be used as a makeshift morgue at times, either to deal with natural disasters such as hurricanes, or epidemics.
In the 1890s, it was used as a wireless telegraph station, and later in 1912 as a cigar factory, and then a brothel. It again changed hands and became a haven for the gay subculture, until US Navy troops were barred from frequenting the premises and it was shut down due to poor revenue.
In 1933, Ernest Hemingway's pal Joe "Josie" Russell purchased the joint, naming it Sloppy Joe's. It was dimly lit with sawdust floors and was a spot to play celo, craps and blackjacks, according to Capt. Tony's Saloon website. In 1937 the bar moved after rent was raised -- attributed to Hemingway's success as a writer, according to an interview with Capt. Tony.
Capt. Tony bought the bar in 1958 and it frequently saw the likes of Jimmy Buffet in the 1970s. Tony sold the bar when he became mayor in 1989, but the watering hole continues today under the same name.
It's only customary you stop by Capt. Tony's Saloon while in Key West and enjoy live music and a mixed drink. It's located right off Duval Street, just steps away from Sloppy Joe's.
---
Book your hotel stay in advance at 24 North Hotel, located in New Town. Find the best fares only available on our website, www.24northhotel.com.
---
---
---
---
Share your opinion on this article
Special Offers
View Special