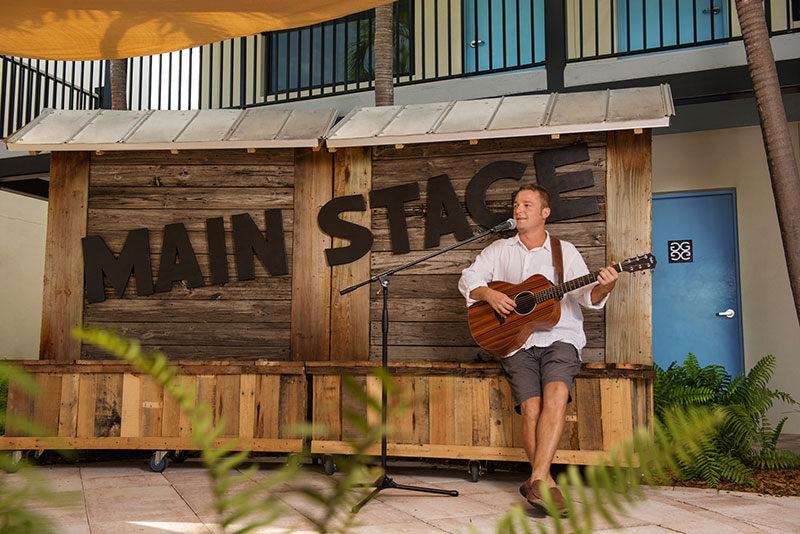 It wouldn't be May in Key West without the annual Key West Songwriters Festival. This iconic festival, and largest of its kind in the world, honors over 175 artists who write hits for country, folk, pop, rock, and blues music billboard acts – but don't perform them. For five days and nights, May 4 - 8, 2022, artists will perform their songs at over 50 shows and tell the stories behind them. Headlining this year's 26th annual festival are Chris Young, Riley Green, and Ernest.
The beauty of Songwriters is that it's a chance to hear the songs you know and love, in the way they were intended. It's like hearing these famous songs for the first time – and at the same time giving a well-deserved nod to the writers that wrote them.
In fact, Songwriters is one of the liveliest times of the year in Key West and an excellent opportunity to hear great music all over the island. Musical acts will be performing at island mainstays like Blue Heaven, Irish Kevin's, Schooner Wharf Bar, Green Parrot, Sloppy Joe's, and Conch Republic Seafood Co.
There are also quite a few parties going on during the fest. Dante's is throwing a special Cinco de Mayo Pool Party with hours of live performances, and the Key West Theater will have more than one Bloody Mary Bash featuring music and Rams Head Southernmost's signature Ketel One Vodka Bloody Marys. For a block party style bash, check out the Songwriters Main Stage at the 200 Block of Duval Street beginning at 7 p.m. on Saturday, May 7, hosted by radio broadcaster Storme Warren.
The Fury Catamaran is getting in on the Songwriters action as well and hosting a sunset sail on May 5 and 7 with live musical performances by some of the featured artists, plus appetizers and a full liquor bar. Performers include: Rissi Palmer, who has shared the stage with Taylor Swift, The Eagles, and Chris Young; Michael Lotten, who's recent releases include Dustin Lynch's hit, "Momma's House" and Chris Lane's, "Ain't Even Met You Yet"; and Brett Tyler, who scored his first #1 song with Jameson Rodgers hit "Cold Beer Calling my Name" featuring Luke Combs.
Most of the festival shows are free to enter and begin early in the afternoon before playing well into the night. Check out the full Key West Songwriters Festival schedule here and RSVP to ticketed events in advance.
The Key West Songwriters Festival is a quintessential slice of Americana that meshes perfectly with the laid-back vibe of Key West. So get down to the Key West Songwriters Festival, happening May 4 - 8, 2022, and pack your guitar, we've got just the space for it and plenty for you at 24 North Hotel. Book direct to save up to 25% and see which of our special offers works for you.
---
---
---
---
Share your opinion on this article
Special Offers
View Special