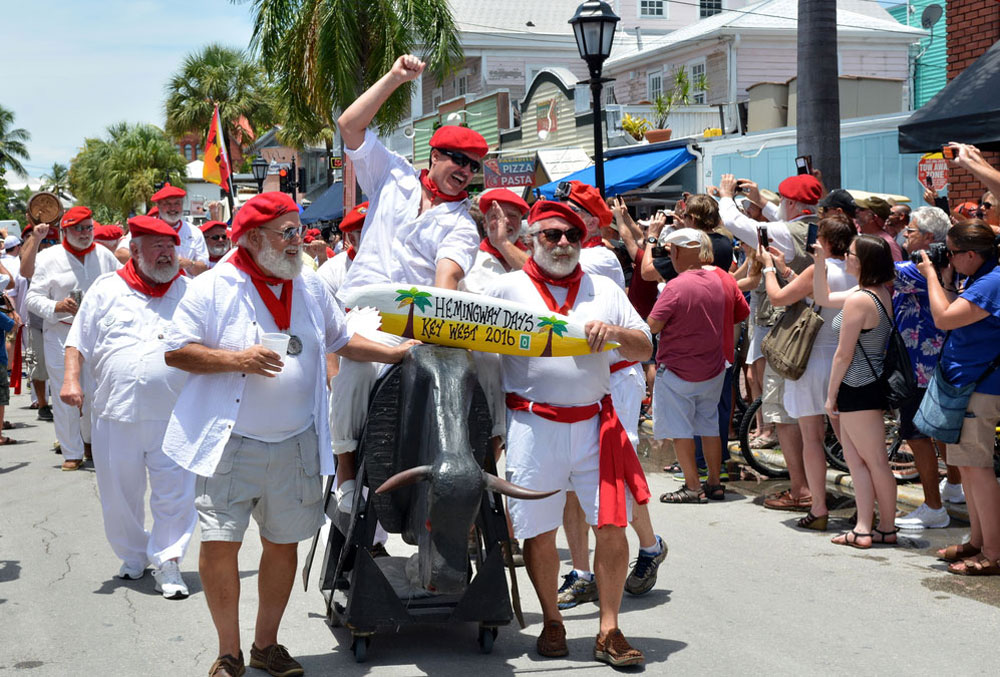 One of our favorite festivals is just around the corner. Starting July 18 and running through July 23, it's Hemingway Days, Key West annual celebration of all things Papa Hemingway. It's one of the island's most popular festivals (besides Fantasy Fest, of course). You've probably seen photos too. This is the one where hundreds of old men dressed in bull-fighting attire run down Duval. Granted, that could be any given day in Key West, but usually it's only during the Running of the Bulls during Hemingway Days. That said, Hemingway Days is an unforgettable experience - and one that's very Key West. Here are five things you must do during Hemingway Days 2017.
Have a Daiquiri at Sloppy Joe's - and another at Captain Tony's
Hemingway wasn't shy about his love of drinking. The writer loved his daiquiris, Cuban-style, with rum and lime, although Papa always added grapefruit and maraschino liqueur. With Hemingway as your excuse, order one at Sloppy Joe's, his go-to bar during his time in Key West. Then head next door to Captain Tony's Saloon, the original spot of Hemingway's favorite Key West bar, and order another.
Witness the Running of the Bulls down Duval
Hemingway was fascinated by the bullfights in Pamplona, Spain. He set many a scene in his novels around them - and even made them the focus of one in Death in the Afternoon. All of this is why Hemingway Days' Running of the Bulls is such a highlight of the festival. It's done in remembrance of Hemingway, but in true Conch style. It's also the spot to see more Hemingway look-alikes in one place than you might ever thought possible.
Brush up on Your Hemingway History at the Key West Art & Historical Society
Hemingway Days isn't all parties and debauchery, there are actually some pretty interesting exhibits being put on by the Key West Art & Historical Society. From the art exhibition "Depicting Hemingway," a series of ink sketches by Guy Harvey that serve as the visual accompaniment to The Old Man and the Sea, to the Hemingway Symposium featuring expert insight into the writer's life by archivists and biographers. There are many more events at the KWAHS, so be sure to check the website.
Visit the Hemingway Home & Museum
A trip to Hemingway Days wouldn't be complete without a visit to the Hemingway Home & Museum. This grand building on Whitehead in Old Town was home to the writer from 1931-1939 - although the descendants of his six-toed cat, Snow White, still inhabit the grounds. If you're interested in getting an insider look at the house, get tickets to the KWAHS Gala, "To Have and Have Another," with a special presentation by Hemingway scholar Philip Greene on the cocktails throughout the writer's novels.
Go Fishing
Papa Hemingway was an avid angler. Whether he was off the coast of Key West, or on his way to Cuba, spent much time fishing in beloved boat Pilar. Channel your inner Hemingway this July with a fishing trip of your own, or by entering the Key West Marlin Tournament. If competition isn't your thing, we have a whole list of fishing spots in the Keys for a little "me time."
--
Ready to join us in Key West? Check out our specials here.
---
---
---
---
Share your opinion on this article
Special Offers
View Special