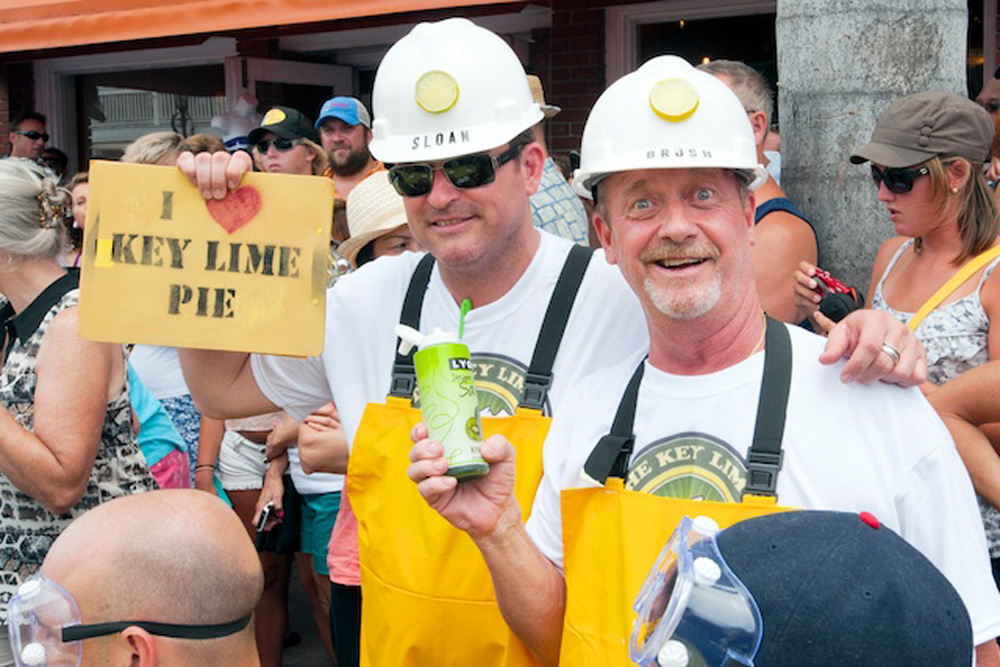 Photo courtesy of the Key Lime Festival
There's no fruit we love more than the key lime. From our national dessert, the key lime pie, to key limeade, key lime cocktails and even key lime rum, we take every chance we can get to use this little fruit. So when it comes to the Key Lime Festival, you can be sure we're in attendance. Here are five reasons we like to go - and why you should join us:
Reason #1: Key Lime Pie
There's tons of key lime pie at the Key Lime Festival. From the festival kick off at the
Key West Lighthouse
to the Key Lime Pie Hop and the
Key Lime Pie Eating Contest
, there are plenty of opportunities to get your key lime pie fix on. We're especially looking forward to the
Key Lime Pie Hop
on
Sunday, July 2, 2017
. Starting at the Smokin' Tuna Saloon, participants will get to try 5 different styles of key lime pie at some of Key West's most famous spots, like the
Key Lime Pie Co
. and
Bagatelle
.
Reason #2: Key Lime Drinks
Being Key West, there's quite a few opportunities to get a buzz going in honor of the key lime. And the Key Lime Festival brings out the best of the best when it comes to key lime flavored drinks. On
Saturday, July 1, 2017
, there's the
Key Lime Cocktail Sip & Stroll
, hosted by seven of Key West's most popular bars. This drinking/walking tour features 12 different drinks, each based off the key lime. Then there's the
Key Lime Rum Sampling & Distillery Tour
on
Monday, July 3, 2017
, featuring Key West's
one and only legal rum distillery
. We love their rum, so we're especially eager to try the key lime flavor.
Reason #3: Key Lime Cuisine
There's much more to be done with the key lime than just pies and cocktails. On
Monday, July 3, 2017
, there's
Key Lime Cooking
with Key West chef and distiller
Paul Menta
, with a special dinner menu designed around the key lime. The menu consists of an appetizer, entree, and dessert, each making use of local ingredients, and of course, the national fruit.
Reason #4: The Key West State of Mind
There's no party like a Key West party - and that's one of the best things about festivals like the Key Lime Festival, it's how the island gets together. While Key West is known for being a bit eccentric, the island is still
one human family
, with people from all walks of life looking to have a good time - and a good laugh. Come see what the fuss is all about. You have your chance this weekend in the Key Lime Festival.
Reason #5: Fireworks
It wouldn't be Fourth of July weekend without a proper fireworks display. That said, the Key Lime Festival is going out with a bang. On
Tuesday, July 4, 2017
at Higgs Beach, there's the annual
Fourth of July Picnic and Fireworks Show
hosted by the Visiting Nurse Association & Hospice of the Florida Keys. There will be live, local music and dancing on the beach, as well as plenty of games and activities for the whole family.
--
Ready to join us in Key West? Check out our specials here.
---
---
---
---
Share your opinion on this article
Special Offers
View Special