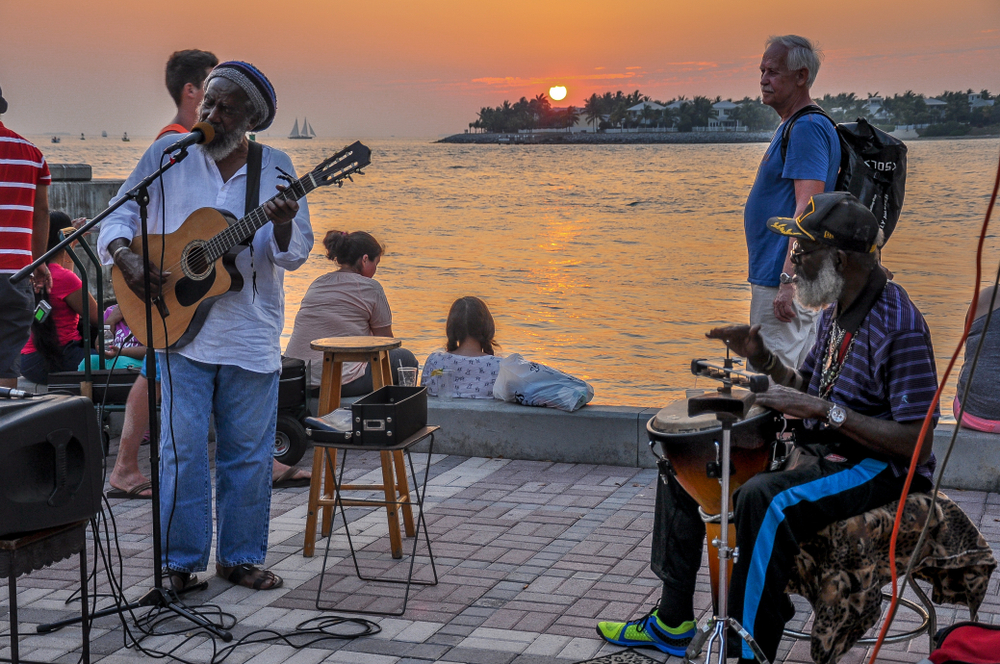 Live music and Key West go hand-in-hand. Afterall, Jimmy Buffett got his start in Key West and later founded Margaritaville. It's nearly impossible to watch the sunset on the island without overhearing some live musical accompaniment. Maybe it's the weather, maybe it's what's on tap, but the Conch Republic always makes room for live music.
While you're on vacation in paradise, check out the 5 best places in Key West for live music.
This Key West institution is known for always putting on a good show. No matter the day of the week, the crowd at Green Parrot brings the party. The dive bar regularly books great acts you don't expect, from Siberian surf-rockers the Red Elvises to jam and jazz bands. Show schedules are set well in advance – check ahead of time to see what coincides with your visit. 601 Whitehead St., Old Town
This classy little martini bar is an island favorite with live music on Friday and Saturdays. The stage ensures that everyone has a seat with a view. Whether it's rock 'n roll on the mainstage or latin beats, a night out at Virgilio's is always a good time. Follow their Facebook feed for upcoming shows and events. 524 Duval St., Old Town
[Trusted Local vendors for Your Key West Wedding]
One of the best things about Sloppy Joe's is its daily entertainment schedule, which features three different acts. Music starts at noon every day and plays through 2 am. The stage area can accommodate large gatherings, or if you want to hang back and enjoy a rum runner, that's okay too. See Sloppy Joe's upcoming event calendar. 201 Duval St., Old Town
Trying to escape classic rock cover bands? El Meson de Pepe in Mallory Square boasts the only local salsa band on the island! Dance samba, cumbia, bachata or whatever you're feeling over delicious, award-winning Cuban fare. Visit around sunset to get in on the action of Mallory Square. 410 Wall St., Old Town
See the best of Key West at the Smokin' Tuna's outdoor music venue. Live music daily, excellent raw bar fare, daily specials, and of course, smoked tuna. 4 Charles St., Old Town
--
Fan of live music? See what's playing at the Sunset Green Even Lawn this season! Located right next door to 24 North Hotel.
---
---
---
---
Share your opinion on this article
Special Offers
View Special