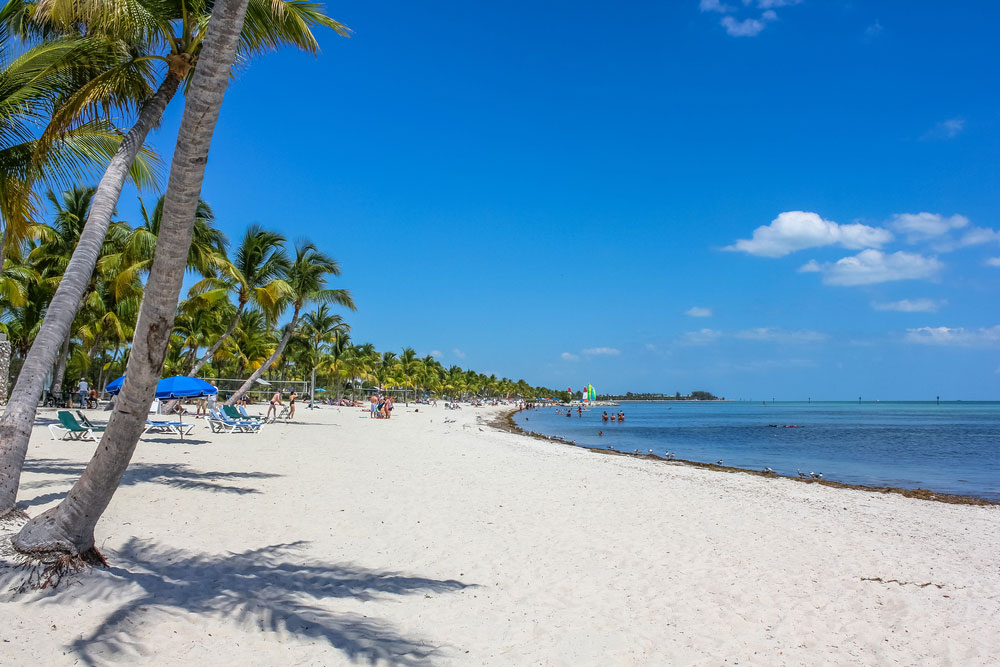 At less than 8 square miles with 25,000 inhabitants, Key West is most known for Old Town and the Duval Street promenade. On the flip side, New Town (about everything east of 1st Street and Flagler) is where most locals live, and there are great options to enjoy the laid-back, residential neighborhood off the beaten path.
Smather's Beach is arguably the best spot on the island, with sugary sand that spans Key West's largest public beach. If you've been to the island you know that most of our beaches are rocky, but at Smather's you can go barefoot without any worries. The water is usually at bath water temps, and if you get to the beach early you can snag a shady spot under a palm tree (by midday these are coveted areas). Paddle boats, catamarans, beach chairs and more are available for rent at a reasonable price through Sunset Sports, located right on the beach. To check out their prices ahead of time, visit their website. The beach is just 2.6 miles down S. Roosevelt Blvd. from 24 North (with a bike path to boot!).
Fort East Martello Museum definitely helps the island earn the title of "Key Weird." Construction on the Civil War-era fort began in 1862 in case of a possible Confederate assault on the then Union-controlled island. The fort saw no threat of battle and was left abandoned and unfinished. Now, the Martello-style building is home to Robert the Doll, an inanimate childhood playmate of a Key West artist. The doll is rumored to be both evil and cursed, and is perhaps the main draw for the museum. The old fort is also host to historic memorabilia, art and artifacts. The museum is located right near Smather's Beach, just 1.8 miles from 24 North on S. Roosevelt Blvd. It's open every day from 9:30-4:30, and admission is $10 for adults and kids 6+ are $5.
Charter Boat Row, established in the early 1900s and located right at the edge of New Town, boasts the largest fishing fleet in Key West. You can rent out a charter for snorkeling, dolphin watching, fishing and anything under the sun, or walk along the pier and check out the slips. Tarpon (and pelican) feeding is every day at the Garrison Bight at 4 p.m. You can also walk the docks and see the day's catch from fisherman between 3-5 p.m. For more information on your options for a day out on the water, visit the charter boat website.
--
Ready to book your stay? Check out our specials here.
---
---
---
---
Share your opinion on this article
Special Offers
View Special