Posted on: November 28th , 2017
|
History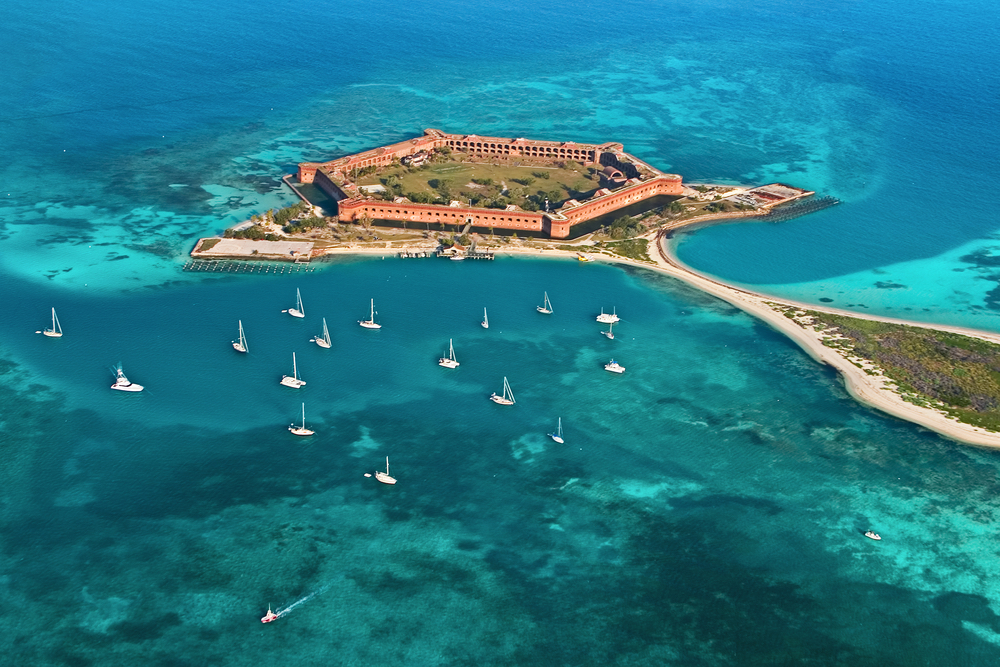 Thinking of planning a trip to Dry Tortugas National Park? The history of the small islands is so varied, we thought it only necessary to give you some background.
Dry Tortugas National Park is made up of seven small islands some 70 miles west of Key West, accessible only by sea or air. Among seafarers, it's noted for its rough reef that has brought down many ships -- some filled with treasure, which you can check out at the KW Shipwreck Museum. The park is a birder's paradise, a history buff's treat and a great place to snorkel.
Spain's Juan Ponce de León was the first explorer to find the small islands, which he named "tortugas" for its abundance of sea turtles, and later added "dry" for its lack of dry water. Today, most visitors snorkel to see if they can spot the island's rich marine life, coral reefs and historic artifacts.
One structure you can't miss on the small group of islands is Fort Jefferson, located on Garden Key. The civil-war era fort is one of the largest brick masonry forts in the Americas, and is quite the site to behold when contrasted with its remote island background.
Started in 1846, the Fort Jefferson was never finished. In its later years, it was used as a prison, with the notable inmate of Dr. Sam Mudd. Doesn't sound familiar? Mudd was charged with conspiring with and harboring the late President Lincoln's assassin, John Wilkes Booth. Mudd was sentenced to life imprisonment at Dry Tortugas, but was later released after helping during the island's Yellow Fever epidemic. Fort Jefferson was later abandoned in 1874.
Today, Dry Tortugas is accessible via daily ferry from Key Bight in Key West. The ride out is just over two hours, and visitors typically spend four hours on Garden Key, checking out the fort and enjoying snorkeling. It's a great day trip for the whole family, with views you can't see anywhere else.
If you're planning to book ahead of time, check out all the Yankee Freedom III ferry amenities here. Snorkeling gear and lunch is provided with the fare, and it runs year-round (except for Christmas day).
---
---
---
---
Share your opinion on this article
Special Offers
View Special