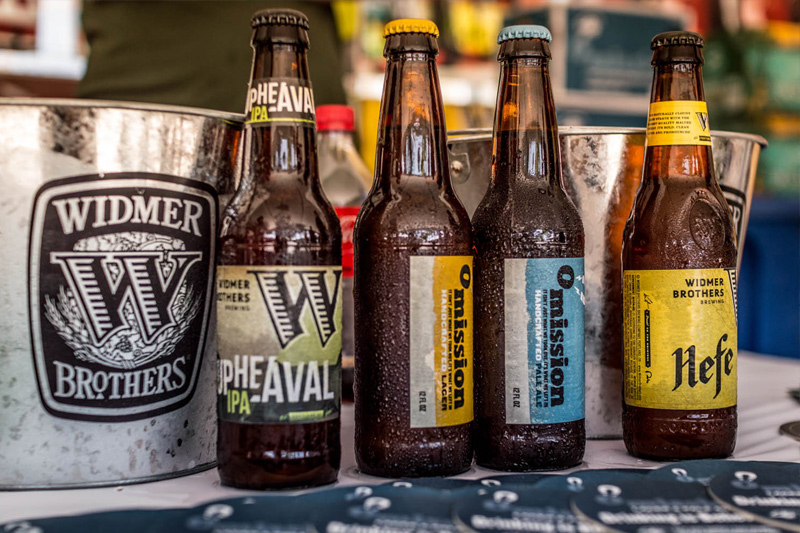 Photo courtesy of Key West Brewfest.
It's not Labor Day weekend in the Florida Keys without Key West Brewfest. The beer-lover's paradise (in paradise) features tastings from craft breweries and international brands, brunch, lunch, and dinner pairings, pool parties, games, and exceptional live music.
Set your calendar for the last hoorah of summer planned for Aug. 29 through Sept. 2. The main event is the signature tasting festival, which takes place Saturday, Aug. 31 on South Beach. It features nearly 200 different beers from around the world, including Belgian ales, German hefeweizens, Kona porters and American ambers. Local favorites like the Florida Keys Brewing Co. and the Florida Beer Company will also be serving up their hardy concoctions.
The tasting festival is set for 5 pm to 8 pm. General admission is $40 per person in advance or $45 at the door. Buy tickets ahead of time to save $5!
While the tasting event will be the weekend's highlight, it doesn't even tap the surface of Brewfest – there's plenty more planned for the long weekend.
Directly following the tasting extravaganza will be a lively promenade along Duval Street - New Orleans Second Line Style - led by the Big Easy's Water Seed. The band is scheduled to depart South Beach at 8 pm with revelers in tow, headed toward a party at the legendary Green Parrot Bar. This will be an awesome segue to Old Town for a night of fun.
We're celebrating at the lush, Sunset Green Event Lawn at 24 North Hotel with Brews, Beats & Grilled Cheese – unlimited beer and grilled cheese sandwiches on Aug. 30 from 6pm to 9pm. Spots are limited, so it's important to purchase your tickets ahead of time.
Parties aside, make sure to get tickets for at least one of the beer pairings over the long weekend. Some of the island's best restaurants and chefs are teaming up to create specialty menus to compliment the festival's featured beers.
First Flight and Bagatelle restaurants are participating, as well as Roostica – whose pairing up with Funky Buddha Brewery (Oakland Park, FL) is bound to be an excellent match.
For a complete list of times and events, consult the Key West Brewfest schedule of events. The main tasting event will be held Friday and Saturday from 5-8 p.m. at the Southernmost Beach Resort on 1319 Duval Street. Tickets are $40 in advance and $50 at the door.
That's right! Take advantage of the Florida Residents Escape package at 24 North Hotel in Key West. We have awesome amenities that set us apart from the rest, such as hourly shuttle service to Mallory Square in Old Town. We also have a Starbucks on site, as well as an awesome pool area, lounge, poolside restaurant, and clean, comfortable rooms.
Check out our rooms here, and look to see which of our online specials work for you.
---
---
---
---
Share your opinion on this article
Special Offers
View Special