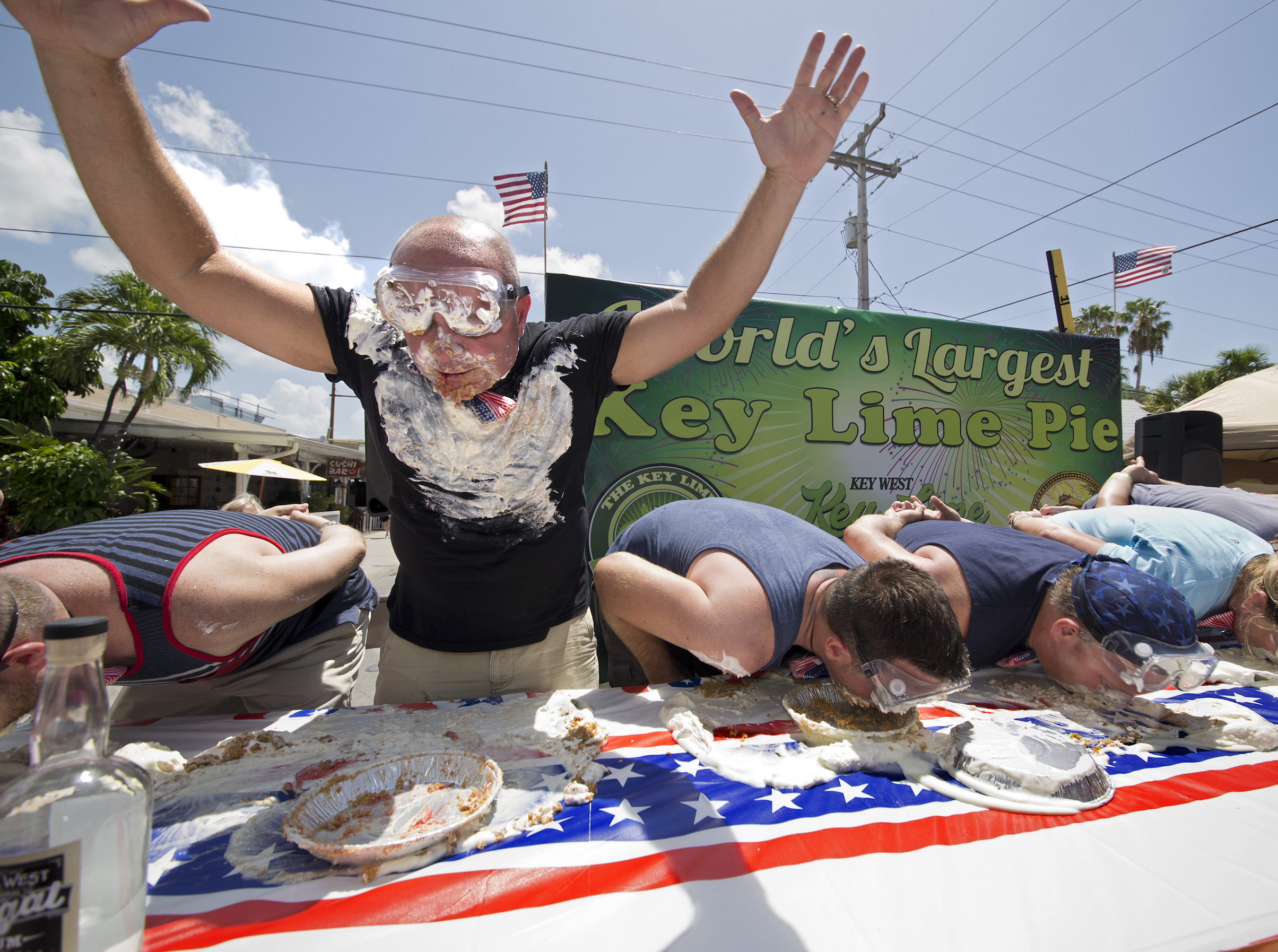 There's no better way to spend the Fourth of July than joining the island of eccentrics for special events honoring our favorite citrus, the venerable Key lime.
The lime is mostly consumed in Key West in a tangy, creamy, chilled pie that's enhanced by graham cracker crust goodness. The Key Lime Pie is known across the nation because it's oh-so refreshingly tasty.
The annual Key Lime Festival will be held July 4-7, with pie drops, scavenger hunts, Key lime cooking demonstrations, and more. As usual, the event runs through Independence Day, starting off this year with a stellar fireworks show at the Higgs Beach Pier.
The fest is packed with activities for all ages. Here are some of the best activities to look forward to.
Quintessential, oddball Key West is at work during this part of the festival! Head to the Key West Lighthouse to watch Key lime pies dropped off the very top! Locals minds compete using gravity-defying skills with to see which pie can make it safely to the ground without harm. The event is put on by the Key West Art & Historical Society and free to watch.
Made for those who enjoy drinking and judging, the sip and stroll involves upwards of 15 local bars competing to create the tastiest Key Lime concoction. The bar stroll starts at General Horseplay at 423 Caroline Street at 2 pm and runs until 4 at participating bars. $30 gets you samples of at least 10 drinks - make sure to pace yourself! Sign up in advance for goodies. July 6, 2-4. More info here.
When in Key West, eat as the locals do. Sample classic and creative takes on the best dessert during the Key Lime Pie Hop. $30 includes five pie samples and a Key Lime Festival t-shirt, which are always beautifully designed. July 7 at 2 pm. More info here.
Local conchs (Key West natives) know that everything tastes a little bit better with rum. Visitors are invited to sample rum made with Key lime at Key West's 1st Legal Rum Distillery and tour the premises. This is perfect for those who don't have a sweet tooth but want a piece of the action. July 4, starts at 11 am. This event is free! More info at distillery website.
The Key lime festivities wouldn't be complete without this favorable, flavorful event. See who can eat a 9-inch Key lime pie the quickest without using their hands in this often nationally-broadcast event. The current record holder is Trey Bergman of Texas, who finished the entire pie in 51.92 seconds. The event is free to watch; participants can join the fray for $20. Held July 4 at 10 am to noon. More info here.
--
Book ahead of time to reserve your room for the 4th of July celebrations! Check out our special offers at 24 North Hotel. We're also running specials for the inaugural mermaid fest, held July 5-7.
---
---
---
---
Share your opinion on this article
Special Offers
View Special