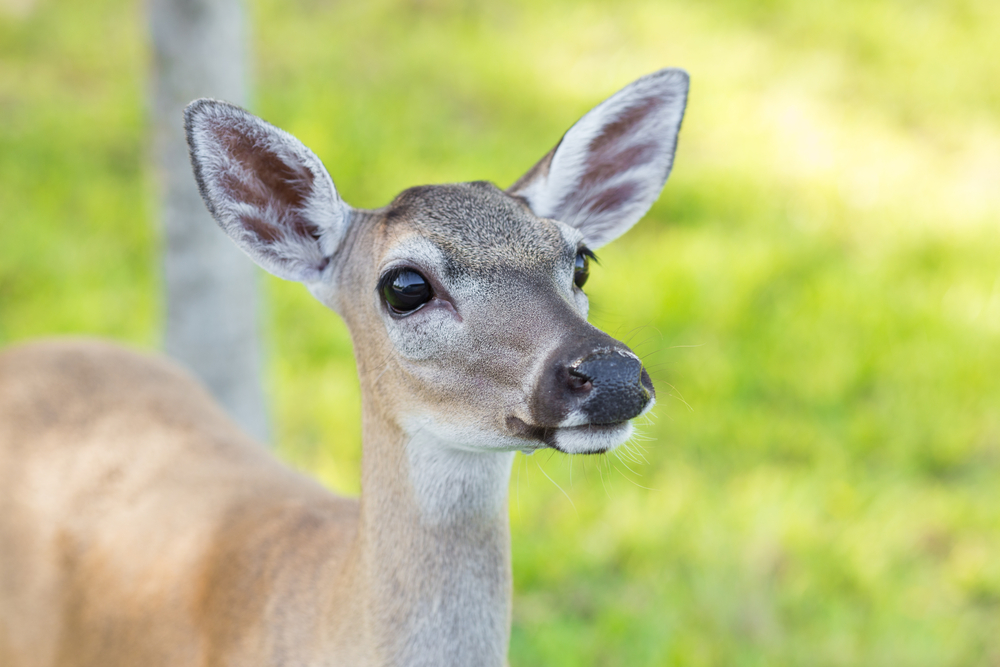 The Florida Keys are home to a unique subspecies of many animals. Tiny deer, rabbits named after Hugh Hefner and eye-catching butterflies all make the diverse ecosystems of Key West home.
Be on the lookout while in the Keys to spot native animals and critters. Here's a list of some of our favorite animals native to the Florida Keys that you might see during your vacation.
Key deer
These tiny deer are unique to the Florida Keys. They're so small that domestic dogs can be a predator. Key deer are good swimmers and enjoy tropical hardwood hammocks, marshes, and mangroves, all abundant in the Keys. They are endangered, but local efforts continue to increase the number of these friendly herbivores. Interested in seeing these handsome creatures? The National Key Deer Refuge in Big Pine Key is roughly 30 miles from Key West. Enjoy a hike while deer watching. Arrive at dawn or before dusk for your best chance of spotting tiny Key deer.
Loggerhead sea turtle
The loggerhead sea turtle is found in other parts of the world but is also present in the waters of Key West. This sea turtle is special because it's the largest hard-shelled turtle in the world. According to the Florida Fish and Wildlife Conservation Commission, adult loggerheads average 275 lbs with 3-foot-wide shells. Their powerful jaws make shellfish a favorite food, though loggerheads lag behind other sea turtle species in swimming velocity. Interested in learning more? The Key West Turtle Museum is a great, quick little stop to learn more about turtles (note: no turtles are kept in captivity). If you'd like to see some sea turtles, the Key West Aquarium cares for injured sea turtles and offers sea turtle conservation tours daily. More info here.
Lower Keys marsh rabbit
The sylvilagus palustris hefneri was named by scientists after Playboy founder Hugh Hefner, though the species is most commonly known as the Lower Keys marsh rabbit. These small, brown rabbits are the smallest of marsh rabbit species and enjoy vegetation in salt marsh areas. Unfortunately, the subspecies is endangered due to development over their habitats and effects of hurricanes. They are most commonly found on Boca Chica, Sugarloaf and Big Pine Key.
Torch Key raccoon
Smaller than common raccoons found in North America, Torch Key raccoons are also leaner and narrower. The most distinguishing characteristic is their light-colored fur, which works to reflect the heat of the sun. They are thought to be leaner than their cousins because there's no need to pack on the pounds to stay warm.
Mangrove buckeye
These alluring butterflies find a home in the Keys and other parts of Florida because they live off of black mangroves as caterpillars. In Key West, butterflies are generally everywhere, feeding off bougainvillea flowers and other flora in neighborhoods and beaches. To see more, visit the Key West Butterfly & Nature Conservatory located in Old Town. Check out chatty flamingos and a diverse collection butterflies enjoying the good life. Buy your ticket online and save!
Remember, no matter how cute, tempting, or photogenic, don't attempt to feed wildlife, as it removes their fear of humans and makes them more vulnerable to harm. Keep wildlife wild!
---
Book your hotel stay in advance at 24 North Hotel located in New Town. Find the best fares only available on our website www.24northhotel.com.
---
---
---
---
Share your opinion on this article
Special Offers
View Special