Posted on: July 19th , 2018
|
History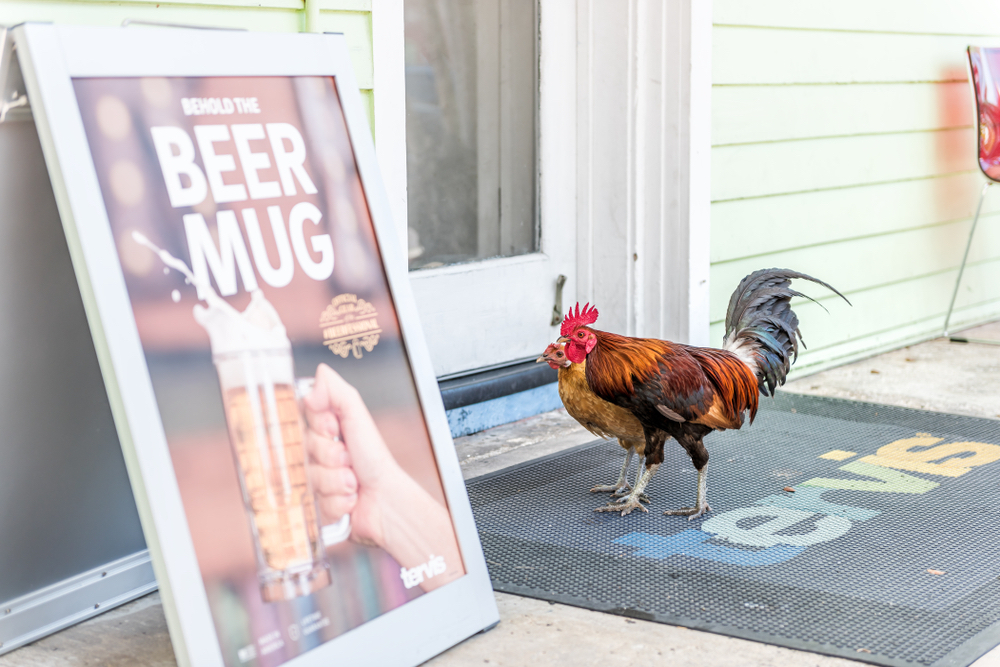 The signature roosters of Key West aren't exactly native. Iguanas that fall frozen off trees in the Florida wintertime aren't from here either. You've probably heard about the pythons that wrestle gators in the Everglades – they're also invasive, yet all these animals have found the warm climate of the Keys and Southern Florida especially favorable.
How did they get here? We'll answer these questions and more about 3 non-native animals that call the Florida Keys home.
Roosters
Roosters and chickens have become somewhat of a mascot for Key West, delighting tourists with their free-ranging whereabouts. As we've mentioned, Cubans brought roosters and chickens to the island for food and cockfighting in the 1800s. When the sport was outlawed in 1970, "gypsy chickens" were left free to roam and breed in Key West, sometimes annoying locals by crowing at all hours and leaving messes in their wake.
Want to see a brood of hens? A flock of roosters? You'll undoubtedly see a few at restaurant Blue Heaven, an island-favorite known for serving the best brunches. The spot in Bahama Village is somewhat of a roost for our feathered friends. See them strut the courtyard alongside lazy cats while you enjoy a 3-egg omelette.
Iguanas

Believed to be stowaways on ships from Central and South America, Green Iguanas are most prevalent in the Middle Keys. Male iguanas can grow up to 6 feet in length. They aren't vicious or the attacking type, but they can be a little unsettling because of their size, powerful tails and teeth. The most pesky thing about iguanas is their appetite for flowers and fruits; they especially love eating up fine landscaping before sunbathing nearby.
The warm Florida weather has caused iguanas to thrive in the Keys. They're even known to take dips in backyard swimming pools. Either way, it looks like these reptiles are here to stay. While you're in town, make sure to try Florida Keys Brewing Company's hibiscus and honey kolsch – aptly named Iguana Bait.
Pythons
Unlike a chicken or an iguana, the Burmese python is a predator, so this reptile's presence in southern Florida and the Keys poses quite a threat to native Florida species. Pythons started showing up in the Everglades in the 1980s much to the chagrin of, well, everyone. It's theorized that the species from Southern Asia was brought to Florida and sold as exotic pets. When the pythons outgrew their tanks, owners simply let them into the wild, where they have since multiplied.

This has spelled bad news for native wildlife and locals. In 2017, a 17-foot python was found in the Everglades. While more prevalent in S. Florida, pythons are beginning to make their way down to the Keys. This is not good for endangered woodrats endemic to the area. The small, wild rats build their nests in woody hammocks. Pythons also pose a threat to the endangered Key deer, the smallest species of deer in North America. Wildlife officials are working to squelch the presence of Burmese pythons in Florida, hiring hunters and catchers in an attempt to eradicate the predatory species.
To see a list of native animals and where to find them, check out our post about animals and critters native to the Florida Keys.
--
Thinking about a day out on the water? Or a spiny lobster dish? Join us for lobster season. Book your stay in Key West at 24 North Hotel.
---
---
---
---
Share your opinion on this article
Special Offers
View Special