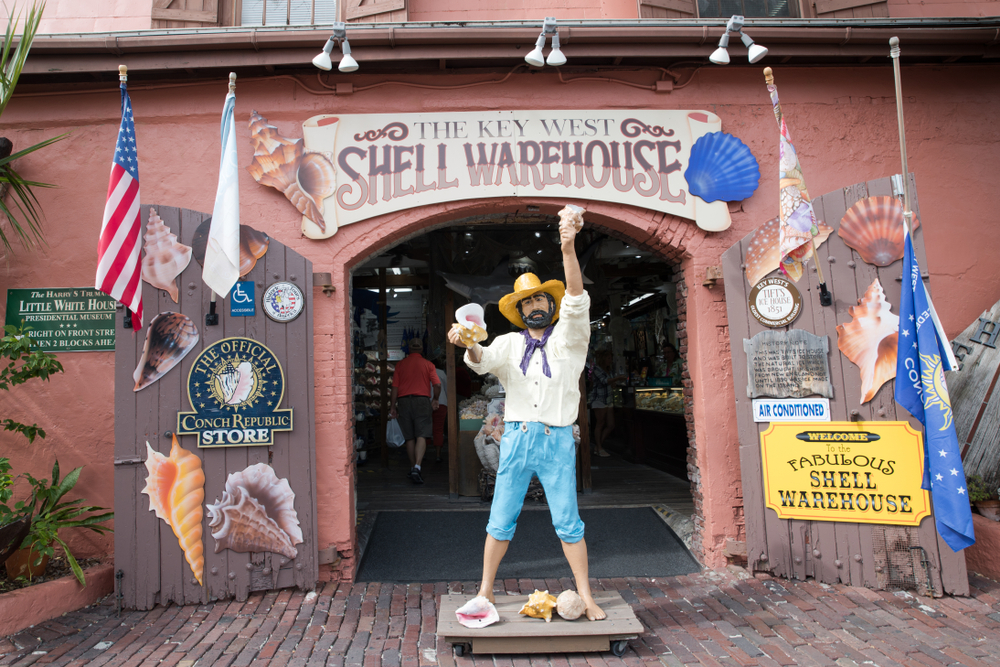 There's so many local goods in Key West, finding a unique souvenir is no difficult task. If you're shopping for yourself or for others, the friendly service in KW and willingness to ship goods wherever you may live makes the process painless.
Passing through Key West via cruise ship or in town for an island getaway? Stop by these shops in Old Town to bring home some of the oddities KW has to offer -- Key Lime peanuts, hand-cut sandals, locally-grown sponges and more.
1. Mallory Square
This outdoor plaza is most famous for its sunset celebrations, but its number of kiosks and shops also offer quite the variety of gifts. Stop by KW First Legal Rum Distillery for chef-distilled rum (shipping available); visit the Key West Sponge Market for the once-booming island trade; the Shell Warehouse is also a great spot to find conchs or unique shells to decorate your home and make unique gifts with. Mallory Square is located at the cruise ship port at 400 Wall St.
2. Peppers of Key West
This hot sauce stop is truly an experience! Sit at the spice bar and try a variety of hot sauces to test your palate. A selection of sweet, tangy, and 5-alarm spice levels can fit your taste. Browse a massive collection of hot sauce varieties; this makes for a perfect gift for your co-workers or as a taste of KW to bring home with you. Bring a drink along with you if you plan to sample hot sauces! Peppers of Key West is located at 602 Greene St.
3. Clinton Square Market
Clinton Square Market is set in a historical Coast Guard Building that was constructed in 1852. Clinton Square Market offers clothing, jewelry and gift shops. A great stop for nature lovers is the Wings of Imagination Gift Shop of the KW Butterfly and Nature Conservatory. Browse butterfly shadow boxes, books, and other delightful home decorations. Located at 291 Front St. between the aquarium and Custom House near Mallory Square.
4. Kino's
For sandals or leather goods that are purely Key West, stop by Kino's, an island staple since 1960. Hand-cut and assembled onsite, these classic sandals are as Key West as Key Lime Pie. The sandal ship tends to gets busy, so arrive early for breezy browsing. Kino's is located at 107 Fitzpatrick St.
5. Lippy's Hot Hats
There's plenty of beach hats around the island, but Lippy's Hot Hats selection of high-quality hats at a fair price set them apart from the rest. Locally owned, stop by and let the staff help you find the perfect hat for you -- sometimes it helps to ask the professionals. Browse Panama hats that will hold up no matter the weather and be used for years to come. Lippy's Hot Hats is located at 901 Duval St. b.
6. Kermit's Key Lime Shoppe
There are great gifts for friends at Kermit's, such as Key Lime peanuts, Key Lime dog food for their pets, bath wash, Key lime cookies, and Key Lime Pies available for shipping. The selection never ends. Before or after making your purchase, try Key Lime Pie on a stick dipped in chocolate while cooling off near their Koi pond.
Kermit's Key Lime Shoppe
is located at
400 Wall St.
--
Book a stay at 24 North Hotel! Affordable prices, convenient shuttle services to Old Town and excellent facilities.
---
---
---
---
Share your opinion on this article
Special Offers
View Special