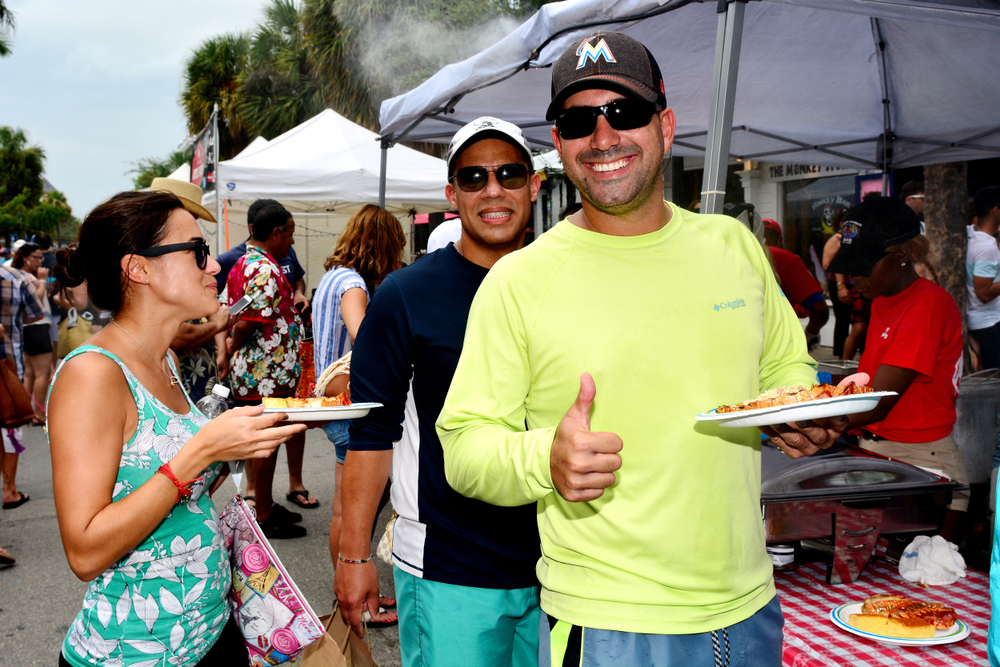 The 16th Annual Florida Keys Seafood Festival returns April 2 - 3, 2022 for two days of tried-and-true seafood recipes and tasty bounty fished out of the surrounding waters. If you plan on going, make sure to dig into these Key West classics:
Chilled Stone Crab
This regenerative food source is in season from October through May, and actually tastes more like lobster than most crab meat you're probably used to. Local stone crab is best enjoyed chilled with a side of mustard sauce – a far cry from the steamed blue crab served with melted butter.
Grilled Spiny Lobster
Have you ever eaten a spiny lobster? Unlike lobsters from the north, spiny lobsters don't have meaty claws. You just eat the tail, which tastes best grilled (also be sure to try the lobster bisque!). Find the best lobster dishes around the island here.
Peel & Eat Key West Pinks
Local shrimp is so sweet, tender, and tasty you won't want to order it fried. Order a shrimp cocktail or peel-and-eat shrimp so you can taste the local "pink gold" that you've heard so much about.
Conch Fritters
While in the Conch Republic, eat conch. You can order the sea mollusk at the seafood festival in a handful of varieties, from conch salad to conch chowder and conch ceviche. If you're new to conch, we suggest you try good ole conch fritters, a Key West favorite and deep fried hors d'oeuvre of finely chopped conch meat mixed with a batter of flour, egg, and spices.
Smoked Amberjack Fish Dip
Smoked fish dip is a summer staple in Florida. The creamy mayonnaise and cream cheese dip is particularly delicious when using the dark meat amberjack fish seasoned with lemon juice and spices. You'll find the dip served with crackers.
Key Lime Pie
After a day of chowing down on seafood, make sure you've saved room for Key West's favorite dessert: Key Lime Pie. This creamy and tangy treat always hits the spot, especially in sunny weather. Keep an eye out for the adorable single serving dessert and wash it all down with a Cuban coffee, rum runner, or margarita - these classic Keys libations are always present at the festival.
The seafood festival is held at Bayview Park in Key West at 1320 Truman Avenue, and runs from 11 - 8 p.m. Saturday and 11 - 5 p.m. Sunday. Admission is $10 per person, children 12 and under are free. Ticket proceeds benefit sustainable fisheries management programs and youth scholarships.
–
Hungry for an eclectic food scene? You won't find anything like the local eats of Key West. Know where to go for the freshest local seafood, as well as the best time of year to eat pink shrimp or spiny lobster – check out our Key West food and dining guide.
Plan your accommodations with 24 North Hotel. Our New Town hotel has amenities you won't find in other hotels - modern rooms that are smartly furnished, a large pool, restaurant & bar, Starbucks, and hourly shuttle service to and from Old Town. Plus, if you want some peace and quiet during your downtime, we're in just the right spot. Read more about special offers at 24 North Hotel.
---
---
---
---
Share your opinion on this article
Special Offers
View Special