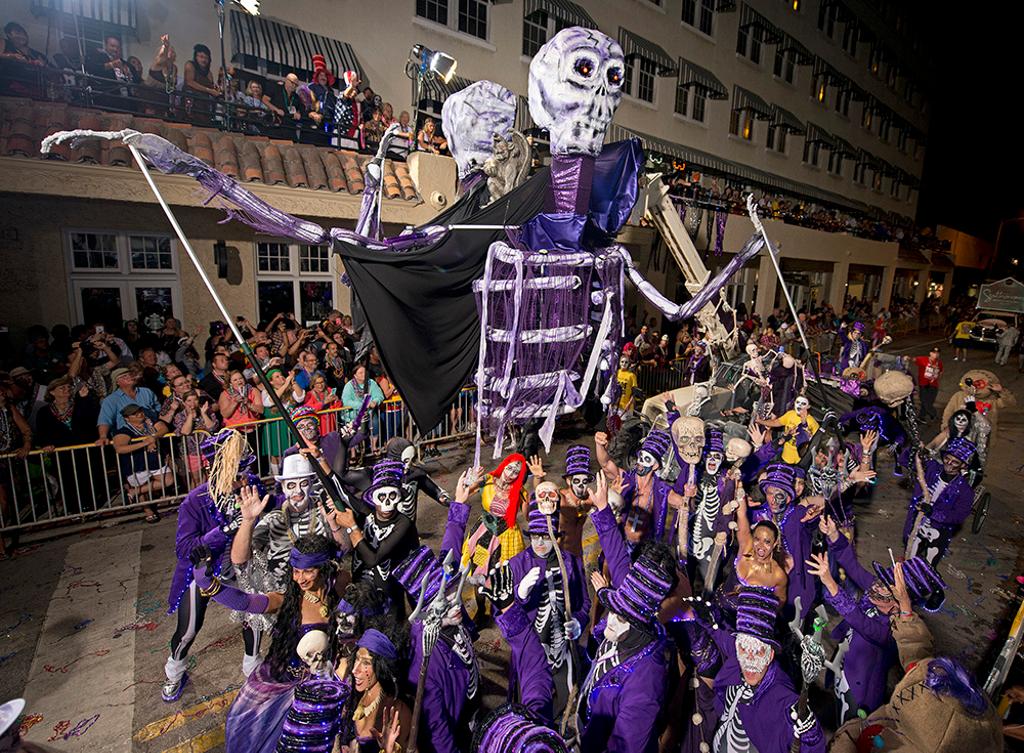 2017 Fantasy Fest runs Oct. 20-29, and there's so much planned for this year's Time Travel Unravels-themed event it's hard to keep tabs on the must-see attractions. Here's a top daily of the most important events of the festival to keep in the know. Also, check out the official schedule to see all there is to enjoy this year at FF.
Friday, Oct. 20 - Royal Coronation at Casa Marina
Two-hour show of local entertainments and final caucus event for King & Queen of Fantasy Fest nominees. $10 donation proceeds go to Aids Help, Inc. Reserve ticket here.
Saturday, Oct. 21 - Bahama Village Goombay Festival
This street party has live music all day in Bahama Village and celebrates the diverse Caribbean history and influence on the island. Read more about Goombay here.
Sunday, Oct. 22 - Zombie Bike Ride
Ride or be a spectator to this family-friendly event (no nudity!). Costumed bike ride leaves Fort East Martello at 6 p.m. to downtown to a party on Duval Street, between blocks 100-300. More info here.
Monday, Oct. 23 - A Green Parrot Beatles Tribute
Jeff Clark and Tony Baltimore celebrate 50 years of Beatles music with this tribute show at The Green Parrot (in case you don't know, the Parrot knows how to throw a good party). Come as your favorite Beatles member. Info here.
Tuesday, Oct 24 - TuTu Tuesday: Prom
Celebrate all things Tutu at the Waterfront Brewery with the 9th Annual Tutu Tuesday. Wristband entry is $25 and six DJs are scheduled to make the party the prom night of your dreams. Info here.
Wednesday, Oct. 25 - Pet Masquerade
This is a FF favorite. Go and see pets and their owners dressed up and competing. Show starts at 5:30 at Casa Marina and is free.
Thursday, Oct. 26 - 3rd Annual Smallest Parade in the Universe
The whimsical smallest parade is a mini procession of tiny floats that make their way down a miniature Duval Street. Guest view from large screen. Absolutely ridiculous event you can't miss. Info here.
35th Annual Headdress Ball
This is the premier gay and lesbian event of FF. See competitors vy for the $3,000 prize for best headdress. At Truman Front Waterpark. Details here.
Friday, Oct. 27 - Fantasy Fest Street Fair
Food vendors, arts & crafts, libations and "costumed frivolity" from noon to 10 p.m. Can't miss it.
Saturday, Oct. 28 - Fantasy Fest Parade
It's here folks, you made it. Join 70,000 costumed (or just barely) partygoers for the parade of the year down Duval Street. Parade starts at 7 p.m.
Sunday, Oct. 29 - "The Fat Lady Sings" Tea Dance
The last official event of FF. At La Te Da from 4-8 p.m., witness the closing signaled by the fat lady singing. $5 for the last hurrah.
---
---
---
---
Share your opinion on this article