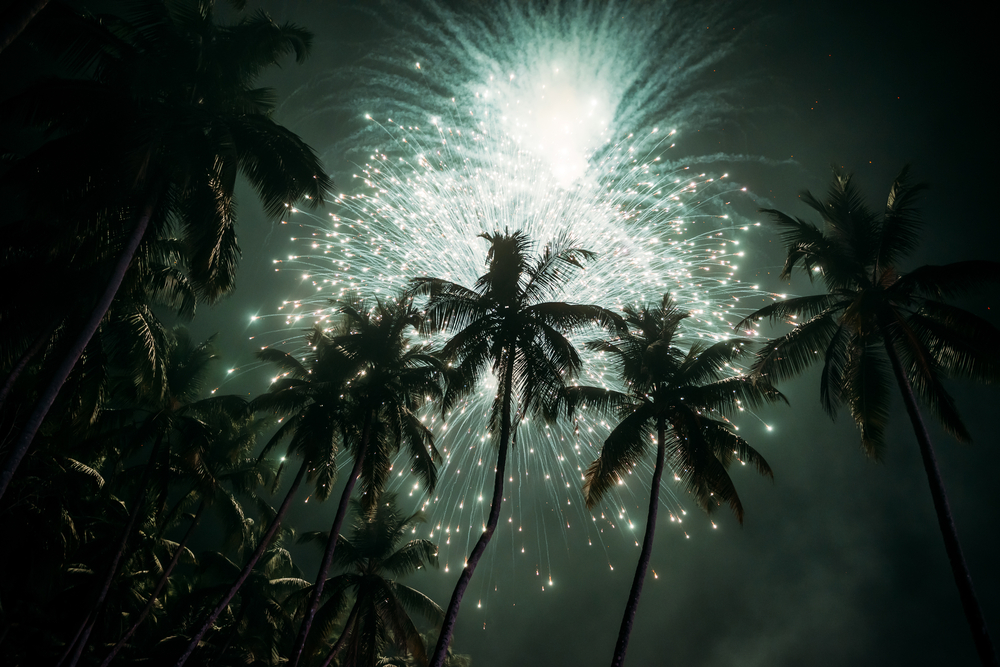 Flip Flops + Fireworks is back for its second year! We at 24 North Hotel invite guests to celebrate the new year and successful past year of the Sunset Green Event Lawn during this annual event held Dec. 30 from 6 pm to 10 pm.
This year's Flip Flops + Fireworks event will again see the band Fuel on Fire perform, which fans of Coldplay and U2 will undoubtedly enjoy. The show is free, with food, giveaways, and a fireworks finale in the works. Pre-game your New Year's Eve bash and celebrate an awesome year of entertainment with us.
Key West's premier outdoor concert venue and multipurpose event space was unveiled at last year's Dec. 30 event, and the entertainment hasn't stopped since.
The Sunset Green has screened films, hosted both silent discos and MMA fights, and has welcomed Grammy-award winning artists to its stage. In the last year, the likes of Rick Springfield and Michael McDonald have headlined shows at the outdoor venue, situated right near the bay.
The new concert space has offered something different to locals and visitors. Its ample space allows guests to lay out on the green grass and enjoy views of wide-open skies, and its easy accessibility and parking sets it apart from other venues on the island.
Also, make sure to tune into our event calendar to see more awesome shows in the works as part of our concert series. We're excited to announce that The Beach Boys are set to play the Sunset Green Event Lawn on April 4, 2019! Get your tickets now.
--
Interested in hosting your own event? At over 12,000 square feet, the outdoor venue is designed to host weddings, concerts, family reunions, movie nights and more, with a capacity of 1,200. Guests who rent the space have flexibility to make it their own with amenities, including tents, dance floors, portable air conditioning units and more.
Additionally, onsite amenities at 24 North Hotel make the Sunset Green Event Lawn perfect for hosting a large group or organizing a corporate event.
Come see the charm of Key West. Check out exclusive deals at 24 North Hotel, which offers free shuttle service to and from Old Town all day long. Read more.
---
---
---
---
Share your opinion on this article
Special Offers
View Special